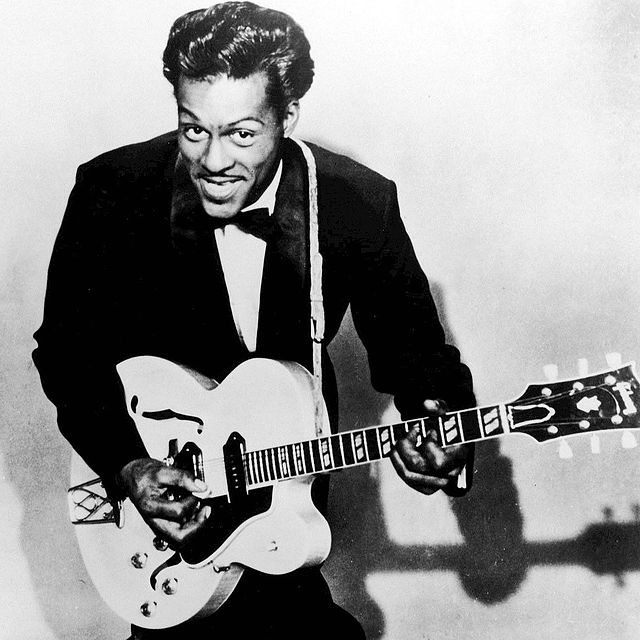 We rarely think about the reality of the afterlife with vivid imagery. A while back I got myself into listening to the music of
Chuck Berry
.
He has some good stuff and a lot of what he did heavily influenced the development of Rock N' Roll into the 60s, 70s and beyond. You can hear in Berry's music the influence of Blues and Jazz combined with a pioneering Rock n' Roll sound.
While there is a lot of music (some good and some bad) that reflects upon death, Chuck Berry's song Downbound Train is worth a listen. The song even speeds up as the train approaches hell--it builds with intensity. Here are the lyrics to a song that is great to listen to but paints a picture of what a descent into hell could be like. [I've inserted semi-colons (;) for each line break. Stanzas are separated by a line break.]
Chuck Berry "Downbound Train" Lyrics
A stranger lying on a bar room floor; Had drank so much he could drink no more; So he fell asleep with a troubled brain; To dream that he rode on that down bound train.




The engine with blood was sweaty and damp; And brilliantly lit with a brimstone lamp; And imps for fuel were shovelling bones; While the furnace rang with a thousand groans.
The boiler was filled with lager beer; The devil himself was the engineer;

The passengers were most a motley crew; Some were foreigners and others he knew. Rich men in broadcloth, beggars in rags; Handsome young ladies and wicked old hags.

As the train rushed on at a terrible pace; Sulphuric fumes scorched their hands and face; Wider and wider the country grew; Faster and faster the engine flew; Louder and louder the thunder crashed; Brighter and brighter the lighting flashed;

Hotter and hotter the air became; Till their clothes were burned; and they were screaming with pain. Then out of the distance there came a yell; Ha ha said the devil we're nearing home,

Oh how the passengers shrieked with pain And begged old Satan to stop that train.

The stranger awoke with an anguished cry; His clothes wet with sweat and his hair standing high;

He fell on his knees on the bar room floor And prayed a prayer like never before.
And the prayers and vows were not in vain;
For he never rode that down bound train.
Sinners in the Hands of an Angry God
is also famous for the vivid imagery. High school English teachers (and countless others) have slaughtered this text and painted Edwards as nothing more than a vindictive fire and brimestone preacher and these same folks (like one of my own high school English teachers) bash the Puritans with little first hand reading in them. Even sadder is when Christians join this rant against such a godly heritage, though they like all Christians were not without their flaws. More to the point, Edwards had in his mind an image of eternity: both sides. His sermon
Heaven is a World of Love
,
is equally enrapturing as he paints the beauty of heaven and even makes ethical appeals to how we can live now with the ethics of heaven. Such visions our rare in our day, even within the evangelical church.
Sadly, in our day in age, we fail to grasp the eternal. It does not drive our thinking. Our reflections on it are weak and wimpy. Some, from within the church, would even have us believe that we should reflect more on how we live and act now than on heaven. "In the past, we've been too focused on heaven, which is from Greek or Platonic philosophy; such Christians do not live in this life benefiting those around us" is the all to common mantra.
This fails to do justice to (a) Christian theology; and (b) countless Christians whose view of heaven pushed them to serve others in this life. I think we could argue that a strong sense of heaven leads to a strong sense of vocation in this life, not to mention personal holiness, evangelistic fervor, and countless other Christian traits. In reality, as Christians our citizenship is in heaven [Phil. 3:20]. Our lives should be lived in the here and now with the culture of heaven evident through and through. We are strangers and exiles and this world is not our home. Heaven, and ultimately the New Heavens and New Earth, is the home of the believer. Heaven is the ultimate reality. It is eternal life.
But an equal reality is that of hell. Hell is eternal death--not cessation of existence but eternal existence under the consequence of sin. It involves unending conscious torment because of judgment. Hell is not a place on earth or this life. Hell is not what I make it or simply the absence of God, like a mere eternal lonliness. It will be unending suffering and damnation for sin. It will be torment. Those who are there will long for an end but be recieving a due punishment for sin--a punishment each one of us, including Christians, deserve.
Oh, may we look to our hope Christ Jesus our Lord who is in heaven. May a reflection on eternity shape our thinking today. For the Christian there should be no such truth to the axiom "So heavenly minded no earthly good." In fact, the more heavenly minded, the more earthly good.
Colossians 3:1-2 NAU Colossians 3:1 Therefore if you have been raised up with Christ, keep seeking the things above, where Christ is, seated at the right hand of God. 2 Set your mind on the things above, not on the things that are on earth.
What does this "set your minds on things above" look like in the context?
Colossians 3:5-10 5 Therefore consider the members of your earthly body as dead to immorality, impurity, passion, evil desire, and greed, which amounts to idolatry. 6 For it is because of these things that the wrath of God will come upon the sons of disobedience, 7 and in them you also once walked, when you were living in them. 8 But now you also, put them all aside: anger, wrath, malice, slander, and abusive speech from your mouth. 9 Do not lie to one another, since you laid aside the old self with its evil practices, 10 and have put on the new self who is being renewed to a true knowledge according to the image of the One who created him--