The comparison game. It is dangerous, destructive, and deadly. How often do I find myself saying, "Yeah, but I'm a better husband/father/Christian than..." The reality is I will not be judged by the standard of "that guy."
For the Lord is good; his mercy is everlasting; and his truth endures to all generations.
~ Psalm 100:5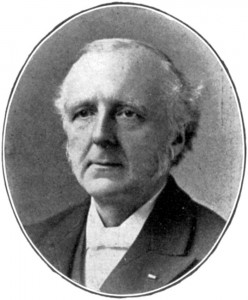 Frederick Brotherton Meyer
(1847-1929)
F.B. Meyer rightly suggests that we must stand before the mirror of truth—Christ. He is the light that dispels darkness, He is the truth of the rightly guided conscience, He is the incarnate Word. He is our standard, and our most "stringent test. With unfailing accuracy we will discover our true selves as we come face to face with him, who is girt with righteousness." He is the standard towards which we must always push and which has no room for complacency or compromise. As one of my good friends often says, "we need to walk like Jesus walked, live like Jesus lived, and love like Jesus loved." Jesus is the
incomparable
standard. The comparison game of self-adulation and other-degradation cannot be played when we have our eyes turned toward the mirror of truth. Thomas à Kempis speaks of this mirror in the opening words of
The Imitation of Christ:
He who follows me can never walk in darkness, our Lord says. Here are words of Christ, words of warning; if we want to see our way truly, never a trace of blindness left in our hearts, it is his life, his character, we must take for our model. Clearly, then, we must make it our chief business to train our thoughts upon the life of Jesus Christ.
It is by training "our thoughts upon the life of Jesus Christ" that we will be able to use this mirror effectively. If I am not daily saturated by the truth of Scripture, if I am not running my daily activities through the grid of discipleship as taught by Jesus in the gospels, the mirror of truth will become fogged by the steam of distraction. He should be my first thought, my first love. When faced with that standard, I fall woefully short—but I press on.
The momentary self-satisfaction I feel from being better than "that guy" is fleeting and false and ultimately leaves me flat. Yet having the standard of Christ before me, the unattainable standard, is paradoxically motivating. One would think that comparing oneself with a standard of perfection would be crushing. Yet once again, Jesus breaks all the rules. Rather than being crushed, one is counterintuitively given hope, peace, and strength to continue pressing on toward that standard. I close with an exhortation from Meyer:
Then let us, in the name and by the power of Jesus, put away all that has been shown to be inconsistent with His character and claims, and let us submit in everything to His control. It will cost us something. We may have difficulty with our judgment warped and injured by self-preference. We may have to contend with our will, reluctant to sign the death warrant of some favorite habit. We may feel powerless to carry into effect what we know in our loftiest moments, to be our only safe and blessed policy. But happy are we, if we dare to catch up the trailing robes of self-indulgence, and restrain them under the umbrella of inexorable truth and purity.