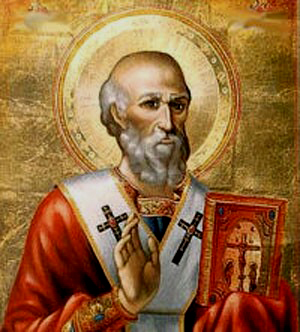 The wife and I were in the great nation of Texas last week with her family, and I shirked my blogging responsibilities. Had I blogged, I would have posted this...
Perhaps no non-canonical writer has thought more deeply about Christ's birth than Athanasius. Here is a gem from his
On the Incarnation
(or, as Andrew would say,
De Incarnatione Verbi Dei
);
The Word perceived that corruption could not be got rid of otherwise than through death; yet He Himself, as the Word, being immortal and the Father's Son, was such as could not die. For this reason, therefore, He assumed a body capable of death, in order that it, through belonging to the Word Who is above all, might become in dying a sufficient exchange for all, and, itself remaining incorruptible through His indwelling, might thereafter put an end to corruption for all others as well, by the grace of the resurrection. It was by surrendering to death the body which He had taken, as an offering and sacrifice free from every stain, that He forthwith abolished death for His human brethren by the offering of the equivalent. For naturally, since the Word of God was above all, when He offered His own temple and bodily instrument as a substitute for the life of all, He fulfilled in death all that was required. Naturally also, through this union of the immortal Son of God with our human nature, all men were clothed with incorruption in the promise of the resurrection. For the solidarity of mankind is such that, by virtue of the Word's indwelling in a single human body, the corruption which goes with death has lost its power over all. You know how it is when some great king enters a large city and dwells in one of its houses; because of his dwelling in that single house, the whole city is honored, and enemies and robbers cease to molest it. Even so is it with the King of all; He has come into our country and dwelt in one body amidst the many, and in consequence the designs of the enemy against mankind have been foiled and the corruption of death, which formerly held them in its power, has simply ceased to be. For the human race would have perished utterly had not the Lord and Savior of all, the Son of God, come among us to put an end to death.
(chapter 2, paragraph 9)
Read the whole thing
here
. It is well worth your time.
Also, John Piper did a biographical talk on Athanasius a few years back, which you can listen to
here
.